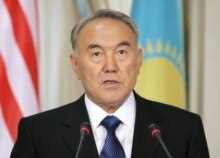 ASTANA, October 9, 2006 (RFE/RL) -- President Nursultan Nazarbaev today instructed the governor of the Southern Kazakhstan Region, Umirzak Shukeev, to take all steps necessary to help HIV-infected children in the area.
Dozens of infants and eight adults have been infected with HIV in the area in the past few months. Six children have died of AIDS.
Health authorities believe unsterilized syringes, or transfusions of contaminated blood are responsible for the spread of HIV.
The official responsible for the investigation, Torekhan Adai, told a press briefing on October 8 that 12 criminal investigations have been launched in connection with the epidemic.
The Kazakh government is due to examine the health situation in Southern Kazakhstan Region at a cabinet meeting on October 10.